Collagen for hair
Collagen is a component of producing keratin, which is your hair's primary protein. It might seem obvious, therefore, that you could get healthier, thicker hair by using collagen-infused shampoo and conditioner. Some of these products even claim to protect against grey hairs and hair damage.
The reality, unfortunately, is a little more complicated. Supplements are likely to be a more effective solution. Here's everything you need to know about collagen for hair.
Collagen for hair growth
A
study
published in the Journal of Drugs in Dermatology indicated that collagen may stimulate hair growth. It involved 26 women with hair loss who took capsules containing collagen for 6 months. When the trial reached its end, those women had more hair growth than 14 others who had taken a placebo.
A supplement like
Novomins Collagen Gummies
could help improve your hair growth. It combines collagen with other powerful nutrients like hyaluronic acid, vitamin C and biotin. Only pure, high-quality ingredients are used to make up these excellent supplements, so you can trust in the standard of the product.

Collagen for hair before and after
Users of collagen supplements are often quick to share the incredible results of their collagen journey. Results include softer skin and stronger nails as well as thicker, healthier hair - just look at this before and after photo.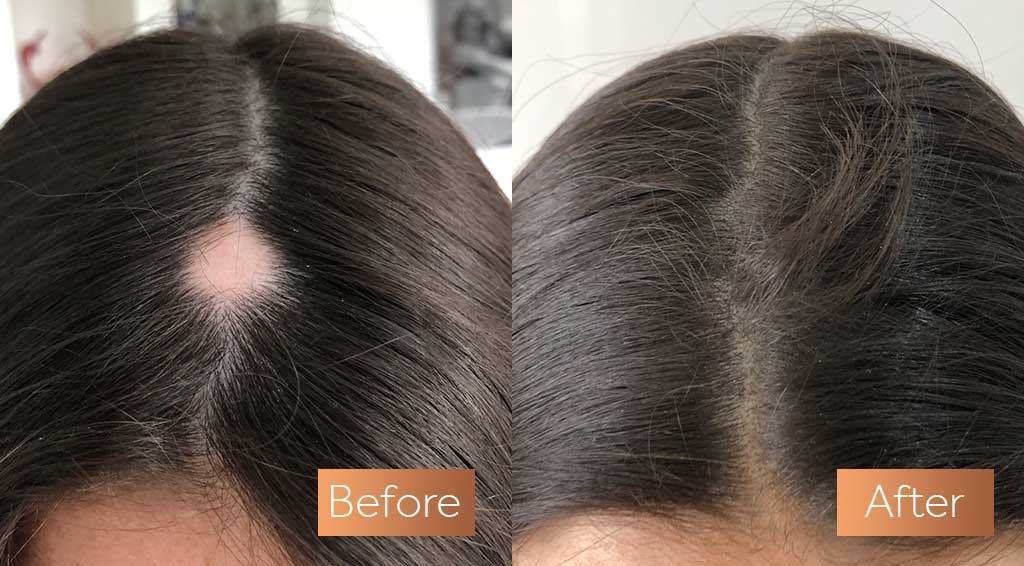 Not everyone will experience the same results from using collagen supplements, but there is a good chance there will be some tangible benefits. It is an affordable, risk-free option to try for improving hair growth and getting thicker, stronger hair that truly shines. And with so many fantastic success stories out there, there is no excuse for not trying collagen supplements if you have any concerns about your hair that you're struggling to correct.
Collagen for hair loss
Bringing collagen into your body through collagen supplements may help combat hair loss and thinning. Here are 4 ways it can help combat hair loss:
1. It promotes healthy roots
Collagen can help improve the deeper layers of your skin. The middle layer - called the dermis - hold our hair in place, and it is made up of 70% collagen. As we age, collagen in our body decreases, so collagen supplements can help maintain a healthy level to reduce age-related hair loss.
2. Collagen can increase fibroblast production
By taking collagen supplements, you might boost your body's natural collagen production. It is thought that collagen supplement helps increase fibroblast production, which in turn controls our natural collagen production. This means greater, lasting strength for the hair follicles.
3. Amino acids
Collagen contains 3 'non-essential' amino acids: proline, hydroxyproline and glycine. These play a role in building proteins like keratin, and our bodies do not always get enough of these amino acids to do so effectively. This means that collagen supplements give our bodies the tools to produce keratin and build healthy hair.
4. Antioxidants
Antioxidants are helpful all around the body, and they protect our hair follicles from damaging free radicals. The threat of free radicals is also thought to cause loss of hair colour, and they become increasingly present in our bodies as we age. Antioxidants can be gained from a number of foods, but collagen supplements are a great way to provide a consistent source to combat free radicals.
Collagen for hair and nails
There is both scientific and anecdotal evidence of the benefits of oral collagen for hair and nails. The aforementioned study from 2014 also documented the benefits the women experienced for their nails. They reported improvements in nail softness, nail brittleness and nail cracking in as little as 8 weeks.
This is a story we see echoed by thousands of people all over the world. This is why collagen has become a buzzword in beauty - the process of supplementing our collagen production, particularly as it decreases with age, can impart a number of benefits to the health of our hair, nails and skin.
Reviews from customers
If you need testimonials from users of high-quality collagen supplements like those from Novomins, simply head to
here
and scroll to the bottom. There are dozens of customer reviews to scroll through that show why so many people are putting their faith in oral collagen to improve their hair, skin and nails.
In particular, you will note that many users compare these collagen gummies to other supplements they have taken, noting the potency and the great taste as particularly appealing factors. Quality and purity are important when it comes to dietary supplements, which are not regulated in the same way as medicinal products, so it's important to do your research.
What are the best collagen products for hair growth?
When it comes to collagen products for hair growth, there are various different types. We previously mentioned shampoos and conditioners, of which there are many. The idea is to massage them into your scalp and leave them there as long as possible so that the all-important nutrients are absorbed into the skin to begin working on the follicles. There are also hair sprays and balms that make the same promise.
In reality, this method of getting collagen into your system is not the most effective. It is far better to take oral collagen supplements so that the nutrients can be assimilated into your system to help provide the benefits you need. The antioxidants, amino acids and various vitamins give your body what it needs to stimulate natural processes that help improve hair health. Therefore, oral supplements are the best collagen for hair.
Of course, not all supplements are created equal. You need to make sure the brand that produces the supplement is committed to integrity and high quality in its products.
Learn more
about why Novomins is a brand you can put your faith in. Our vitamin range is delicious, nutritious and backed by science, so our products are guaranteed to provide superb value for money and the best possible results.
Customer Testimonials
Hear what people have been saying about our marine collagen gummies:
⭐
⭐
⭐
⭐
⭐ (RM)
I've been buying from Novomins for almost a year now and they're mygo to company for all my vitamins! These gummies are not only deliciousbut have really helped my hair skin and nails. Been using them alongsidethey're beauty gummies too! Also seen a change in my joint health!
⭐
⭐
⭐
⭐
⭐ (Josefine)
They definitely motivate me to have more collagen. Taste good too!!
⭐
⭐
⭐
⭐
⭐ (Viktorija)
Who said collagen has to taste horrible... Halfway through thebottle of vitamins and can say the strength of my nails has improved100% Taste is absolutely marvellous (shame your allowed to have only 2 aday) Viktorija 5.0 out of 5 stars Who said collagen has to tastehorrible...
⭐
⭐
⭐
⭐
⭐ (Xhordi)
Amazing taste, you don't get any after taste of any processing likeyou do with others. By far my favourite ones! Has helped with the kneenot feeling as much pain since taking the vitamins and just placedanother order to get some more! Highly recommend them.
If you have any more questions about marine collagen or about any of our marine collagen products such as our gummies, please feel free to get in touch with us here.